State of The Arts at Selfridges Birmingham
As part of our State of The Arts campaign, we're exploring the power of art in unexpected places. Discover our in-store art trail, including works by critically acclaimed artists from our partner for this creative campaign, Birmingham's IKON gallery. Housed in a magnificent neo-gothic school building, this internationally acclaimed art gallery and education charity works to encourage public engagement with contemporary art.
Explore the artists and their works in store.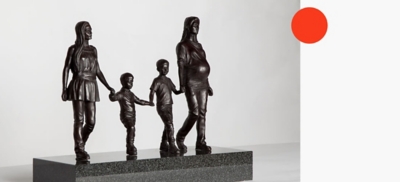 'A Real Birmingham Family' by Gillian Wearing, 2014 on 4
This piece by Turner Prize-winning, Birmingham-born artist Gillian Wearing depicts a real-life Birmingham family cast in bronze. This edition of 20 sculptures are priced at £7,200 each.
'the seasons' by Perry Roberts, 2019 on 2
Belgium-based British artist Perry Roberts works in a variety of media including painting, furniture and wall drawings. 'the seasons' is a text-based installation, reflecting on our experience of the seasons: fragmented and mixed up, it not only suggests the effects of climate change but raises questions concerning the nature of fashion.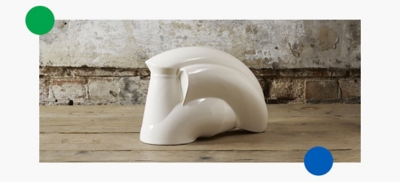 'Still Life Jug', Richard Wilson, 2015 on 4
British sculptor Richard Wilson's handmade ceramic jug is depicted in motion, as if falling through space: a narrative of an unknown time duration through a shift in position. Limited edition of 50, priced at £3,000.
'Carmen Miranda' by Joana Vasconcelos, 2008 on 4
After shopping around our Shoe Galleries, why not visit Joana Vasconcelos's piece, depicting a shoe made out of stainless steel pans?