State of The Arts at Selfridges Exchange Square and Selfridges Trafford
As part of our State of The Arts campaign, we're exploring the power of art in unexpected places. In Selfridges Exchange Square, we are partnering with Manchester School of Art, the city's renowned design school, to showcase thought-provoking art, sculptures and installations by some of its most talented graduates, while in Selfridges Trafford we're showcasing the works of the city's best up-and-coming artists.

Explore the artists and their works in store.
SELFRIDGES EXCHANGE SQUARE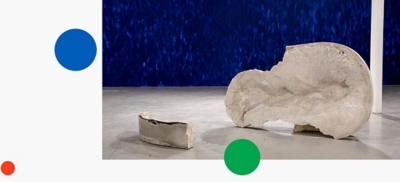 'Ideas decompose into stones of unknowing', 2018, by Rebecca Kay, Windows & Central Atrium on G
Manchester School of Art graduate and student of the Royal Academy of Arts Rebecca Kay creates sculptural forms and documents that trace emotional responses to our lived experiences.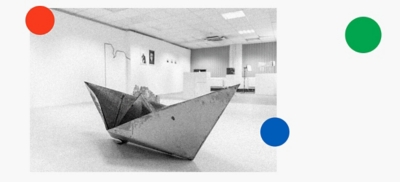 'Lost', 2017, by Omid Asadi, Womens Designer Galleries on 2
A UK-based artist and Manchester School of Art graduate, Omid Asadi uses different disciplines to investigate complex issues concerning identity. His works deal with the tangled emotions of self-alienation, loss and frustration as a result of immigration, conflict and childhood memories.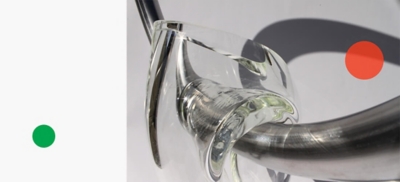 'Performance', 2018, by Sophie Russell, Upper Level (pictured above)

Inspired by the Manchester-based artist's passion for aerial performance, 'Performance' features forms created in blown glass balanced on metal hoops, delicately held in a tension of movement and balance. Each piece embodies its own character which is accentuated through the process of cutting and polishing, exposing voids that enable the viewer to see both the internal and external space.
'It's Cold Outside', 2018, & 'The Highest Order', 2019, by Kay Shah, Lower Level Windows

Portraying an idea of an abstract utopian/dystopian geometric environment, Kay Shah's installations attempt to invoke a sense of escape, a place where the viewer can get lost, away from the mundane. The contrasting light and dark spaces are set to represent the idea of utopia vs dystopia – one being light and inviting, a place of tranquillity; the other being harsh, rigid and cold with a hopeful yearning for light at the edge of darkness.
'Hybrid Array', 2018, by Emilie Alstrup, Mens on Lower Level

London-based Danish artist and Royal College of Art graduate Emilie Alstrup uses tactile materials to construct clashing elements to stimulate a world desensitised by technology. 'Hybrid Array' is an exploration of physically manipulated materials which manifests itself as a textural landscape.
'The Unfolded Journey of TRANScoffinATION Part 2', 2018, by Clare Calveley Creative, Lower Level

Clare Calveley Creative is an Art Director, Graphic Artist and Concept Developer based in Manchester and Anglesey. This piece of work is an extension from her previous MA research project, 'The Unfolded Journey of TRANScoffinATION Part 1', which focused on the relationship between people and space. Part 2 explores the harsh reality a family experiences after the loss of a loved one through manipulating materials such as cement, plaster, metal and expanding foam. The characteristics of each material have been carefully selected in relation to the various stages of grief: shock, denial, anger, depression and acceptance.